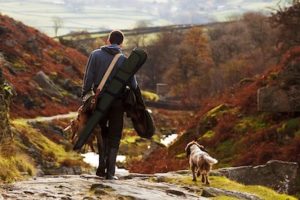 In Colorado, you must have permission from the land owner before entering private property. Hunters can be charged with trespassing violations without realizing they were committing a crime. Private lands do not have to be fenced or posted, and it is too easy to wander onto them accidentally when you are out hunting. Trespassing is a serious offense. A conviction can have a negative impact on your future, including criminal penalties and loss of your hunting privileges.
What Types of Trespassing Violations Can Hunters Be Charged With?
Hunters in Colorado can be charged with second degree or third degree trespassing if they enter private property without permission from the landowner.
Second degree trespassing occurs when a person "unlawfully enters or remains in or upon the premises of another which are enclosed in a manner designed to exclude intruders or are fenced."
Third degree trespassing is simply "unlawfully entering or remaining in or upon the premises of another."
How Should You Go About Requesting Permission from Property Owners?
Colorado Parks and Wildlife (CPW) recommends taking the following steps to gain permission to hunt from a landowner:
Choose a unit for hunting. This may involve driving around the eastern part of the state, including the mountains, and doing research to find out where game populations are strongest.
Go for a drive before hunting season to locate animals and contact landowners. Knock on doors and ask for permission to hunt on the land. If you are unable to locate an owner, try calling the county assessor's office.
Present yourself and your hunting group to the property owner. Be courteous, introduce yourself, and say where you are from. Share the time and effort you've spent searching for a place to hunt. State exactly how many hunters are in your group and describe the vehicle you will be driving. The smaller your group, the more likely you are to be granted permission.
Make sure you are clear on where the land you have permission to hunt on is located. Make a copy of a map of the area and ask the landowner to mark his or her property on the map. Find out if there are any off-limits areas or livestock to avoid. Ask the owner if you may drive into a pasture to retrieve game and if others will be hunting on the land.
Contact the landowner a week before the hunt to confirm that you will be coming. Discuss any details that may have changed and make an effort to engage with the owner.
Locate the land owner before or after the hunt and offer a thank you card and gift. End the conversation by saying, "See you next year."
When Is It Okay to Hunt on Federal and State Trust Lands?
Land under the jurisdiction of Bureau of Land Management (BLM), U.S. Department of the Interior, or U.S. Department of Agriculture is generally open to hunting and fishing in accordance with federal and state laws. State Trust lands, on the other hand, are not public lands. They are trust lands designated to produce income for public institutions and state schools. Hunting is only allowed on parcels that are opened for public access and specifically allocated for that purpose.
What Should You Do If You Are Charged with Accidentally Hunting on Private Property?
If you have been charged with trespassing while hunting, exercise your right to remain silent and contact a Colorado wildlife law attorney as soon as possible. At Welsh Law, LLC, we can present a strong defense to help preserve your hunting privileges and protect your future. Call us today at (720) 836-1777.
---